All other Australian areas
Your CaterSafe representative is Glenn who will assist you with your enquiry.
Please phone 0409 685 344 or use the form below. We look forward to providing your pathway to safe food.
Glenn Ian Raine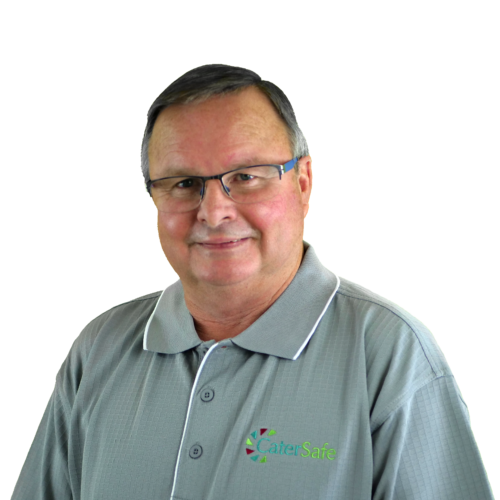 With over 47 years experience catering and an impressive collection of qualifications in the industry. Glenn served in the Royal Australian Navy for 21 years, serving in all ranks through to Chief Petty Officer Cook, meaning he has excellent attention to detail, a disciplined approach and the highest of standards.
Since then, with a passion for the industry, Glenn has overseen and managed the catering of over 8 Million meals in the past 13 years!
Glenn is a stickler for quality, thus maintains the highest of standards when it comes to food safety. His attention to detail has been the foundation of his success in the industry.
Glenn has proven his himself time and time again, in various roles which include:
Resturant Manager Sizzler's 'Tuggeranong', Toombul, and Strathpine
Hotel and Catering Services Manager at Granites Gold Mine a 450 man mine camp.
Freemasons Nursing Home – Overseeing the day to day catering in a 550 bed Aged Care Facility, 16 dining rooms approximately 85 catering staff.
Oversee and manage Mercy Food Service Rockhampton – a medium sized HACCP Certified Cook / Chill Produciton
Facility producing in excess of 630,000 meals every year
Glenn Raine is a wealth of knowledge, with a notable range of qualifications:
CERT III – Commercial Cookery
CERT – Advanced Kitchen Management – Royal Australian Navy
CERT OF COMPLETION – Spotless Management Training Programme
RABQSA – HP Developing HACCP Plans
SITHCCC032A – Apply Cook Chill Production Processes
HLTFS309C – Oversee Day to Day Implementation of Food Safety in the Workplace
HLTFS31000C – Apply and Monitor Food Safety Requirements
SITXFSA201 – Participate in Safe Food Handling Practices
HLTFS207C – Follow Basic Food Safety Practices
SITXFSA101 – Use Hygiene Practices for Food Safety
Contact Glenn